November, 23, 2014
Nov 23
7:17
PM ET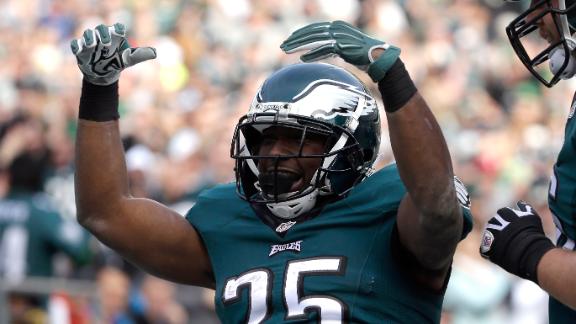 PHILADELPHIA -- Since even before he took over as the team's starting quarterback, common sense said the Titans needed a thorough look at
Zach Mettenberger
this season to determine their future course at the position.
He struggled while absorbing five sacks and completing just 51 percent of his passes in Sunday's 43-24 loss to the Eagles.
But he's still providing cause for the team to think it may have its guy. His 345 passing yards were a rookie record for the 54-year old franchise. While that verdict isn't in, let's throw open another area that needs thorough review the rest of the way:
The run game.
For Mettenberger or anyone else quarterbacking the Titans to have a chance at success, the Titans have to be able to run the ball with more consistency. This year has been another disaster in that department.
I understand that running well is far more a function of winning than winning is a function of running well. Many good running teams post many yards late, while leading.
Still, there are situations when a team can force the issue. And it helps it maintain a balance that serves as an aide to the quarterback and the passing game.
The Titans have no such help from the run game now.
They weren't doing enough to be balanced before he took over. In Mettenberger's four starts, they've run, on average, five fewer times a game.
We don't know if they've found the right quarterback. We have more evidence on the running backs in the committee and their blockers, and it is worse.
The Titans had their choice of running backs in the draft when they chose to take one 54th overall in the second round. They tabbed
Bishop Sankey
, a hard-working back from Washington they sold as a do-everything guy.
In a game when the Titans gave up plays to two high-quality backs in
LeSean McCoy
(21 carries for 130 yards and a score) and
Darren Sproles
(six for 25 and a TD) the Titans showed they don't have anything close to comparable weaponry.
Sankey got the bulk of the work and didn't do anything to suggest he has the combination of vision, power and speed the Titans need to run effectively.
He had 10 carries for 37 yards and three catches for 15 yards. With the Titans behind 34-17 in the third quarter,
Daimion Stafford
pulled in an interception and the Titans were poised to do something from the Eagles' 41-yard line. Sankey took a handoff and fumbled it back on the very next play.
The blocking for Sankey,
Shonn Greene
and
Dexter McCluster
is a well-documented problem. The Titans spent a great deal of free-agent money and their last two first-round draft picks to rebuild a line that does very little to set and maintain a tone as run blockers or pass protectors.
The Titans have a habit of getting behind, and that makes something that is already difficult for them to do even harder.
"How are you going to run the ball when you're down 17-0 at the start?" left tackle
Taylor Lewan
asked. "That's hard."
Part of the problem is mission statement and identity.
Coach Ken Whisenhunt wants a team known for its versatility. That's an admirable end point when you're the Patriots and you can see a matchup that begs for six offensive linemen and a bruising run game and you have the personnel and gumption to make it work. A team under new leadership lacking people power doesn't have the luxury to be versatile until after it's good at something first.
Under Jeff Fisher and Mike Munchak, at least we knew the Titans wanted to run the ball in an old-school way. I appreciate that Whisenhunt wants to be more a part of the modern game and have his quarterback sling it. But to give Mettenberger or anyone a chance to do that, there has to be counterbalance in the run. The Titans don't have it, and they don't even talk about being hell bent on getting it.
"We've just got to clean that stuff up," tight end
Delanie Walker
said, after telling me how he isn't a coach and just tries to execute what is asked. "I think it's lot of just missed assignment and not knowing, when we get different looks, who to block. We've got to really figure out what we really want to do here and who really wants to play and get to the bottom of that situation."
Sankey, Greene and McCluster all need to be under review down the stretch. Three of the offensive linemen already are, I believe. Left guard
Andy Levitre
and right tackle
Michael Oher
could have only six games left in their time with the Titans.
"Any offensive lineman wants to run the ball, that's what you take pride in, not that pass pro is any different," said right guard
Chance Warmack
, who also is maddeningly inconsistent. "Why not? Why wouldn't you want to run the ball as an offensive lineman?"
I think they want to.
The linemen, the backs, the Titans, they've all done a lot of work showing us they can't.