September, 21, 2014
Sep 21
7:14
PM ET
CINCINNATI -- The
Tennessee Titans
' defense can't have been surprised by the trick play the
Cincinnati Bengals
ran in the first quarter of their
33-7 home
win Sunday.
"We repped that plan in practice," Ken Whisenhunt said. "Part of being a pro, whether it's you getting the rep or not, when it shows up in (the game) exactly the way you ran it (in practice), you have to make the play."
From the Titans' 18-yard line, Bengals quarterback
Andy Dalton
pitched the ball to
Mohamed Sanu
heading right, then slid out to the left as a receiving option. Titans cornerback
Blidi Wreh-Wilson
read it and was well positioned to make a play.
[+] Enlarge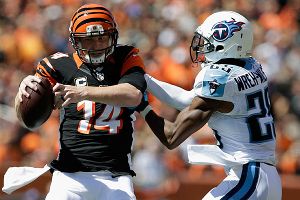 AP Photo/Darron CummingsTennessee's Blidi Wreh-Wilson failed to make a play on this pass to Bengals QB Andy Dalton in the first quarter. Dalton caught the ball and ran in for a TD.
"As soon as I released it, I was like 'Uh oh,'" Sanu said. "Because they had a guy right there who we didn't expect to be there."
But Wreh-Wilson, who said he was on the field when the Titans practiced against the play, butchered it. He had a chance to grab the ball and run for a touchdown, or to deck Dalton. He did neither.
"I just saw the toss and I saw the quarterback rolling out and no one was on him," Wreh-Wilson said. "I just went to go make a play on the ball when I should have taken probably a smarter angle and then just made the play on him. I had the play stopped, diagnosed. I just had to make a play and I didn't make it.
"At the end of the day, I have to find a way just to eliminate the touchdown. Deciding between making a play on the ball or the man, that's where things got a little tricky for me. I was trying to pick a place to hit him where it would basically eliminate a penalty. When the ball was up in the air, I should have just hit him and that should have been the end of it. Hit him and eliminate the possibility of a run after a catch."
I thought it was an eminently interceptable ball. Wreh-Wilson should have beat Dalton to it, caught it and been in position to run 85 or 90 yards to a score that would have made it a 7-3 game with the Titans ahead.
"I couldn't tell you what he's thinking," Whisenhunt said. "He's a young player, but youth is not an excuse. I'll be the first one to tell you, once again, this league is about making plays."
Things went south for Wreh-Wilson from there. He drew four penalties, three on defense and one on special teams.
He's a smart guy with skills. But his first three games as the Titans second starting cornerback have been poor.
He taunted in Kansas City and drew a flag for it in a game where there was no big passing-game threat. He was in position to break up a touchdown pass to
Dez Bryant
against the Cowboys and didn't.
And now this.
I think he's good enough to turn things around and have the sort of career where he can laugh about the first three games of his second year.
But he needs to start showing that is where he's heading.