September, 21, 2014
Sep 21
6:59
PM ET
EAST RUTHERFORD, N.J. -- He made the declaration surely and steadily, though it was one with which his head coach and several teammates disagreed. Quarterback
Ryan Fitzpatrick
took the blame for the
Houston Texans
' first loss of the season.
"We're not going to win any games when I play like that," Fitzpatrick said after his worst game as a Houston Texan.
[+] Enlarge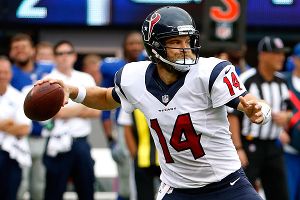 AP Photo/Kathy WillensRyan Fitzpatrick endured interceptions and sacks for the first time this season, leading to the Texans' first defeat of 2014.
The Texans lost 30-17 despite being outgained by only eight yards, having a better average gain per offensive play than their opponent and a better average gain per pass play.
What once went the Texans' way went in the opposite direction Sunday. Turnovers turned their backs on Houston as the Texans looked to their passing game more with starting running back
Arian Foster
out with a hamstring injury. They shifted away from their ground game, and when they did, Fitzpatrick's old demons returned to haunt him.
"Some interceptions happen, but that was just poor play by me," Fitzpatrick said. "You saw the first two games, the formula of not turning the ball over and forcing turnovers on defense and what that led to, which was two wins. Today, with three turnovers -- as a quarterback you really just hate losing, but you especially hate losing when it's kind of on you."
Through two games this season, Fitzpatrick was one of just two quarterbacks to have avoided both interceptions and sacks. Both of those streaks ended for Fitzpatrick, whose offensive line gave up two sacks against the Giants.
Fitzpatrick threw 34 passes and completed 20 of them for 289 yards. He threw one touchdown pass but three interceptions that resulted in a 59.6 passer rating. All three picks were on passes that traveled at least 15 yards through the air. His interception total could have been higher than that, were it not for fortunate bounces. One tipped pass hit Giants corner Dominique Rodgers-Cromartie. Another pass floated in the air, precariously around various Giants, as Fitzpatrick tried to get rid of it and salvage yardage.
This is not a new problem for Fitzpatrick, and it's something the Texans sought to curb during the offseason. Since he was drafted, Fitzpatrick ranks fifth among active starting quarterbacks for most interceptions per game with 1.07. He has thrown 93 in his career. The team's coaching staff has focused on helping him make smart decisions, and until now Fitzpatrick had.
On Sunday, Fitzpatrick's 34 passes were almost double what he'd thrown in the previous week's win over the
Oakland Raiders
. Part of that was due to missing Foster, who was sidelined again with a hamstring injury. Foster's absence likely contributed to the high number of long third-down situations in which the Texans found themselves. Foster averages 6.5 yards per rush on first downs.
"It's not just him, it's everybody," receiver
Andre Johnson
said. "I always tell people, my thing about football, you can't have one guy hit three home runs or have one guy go out and score 80 points. All 11 guys have to be on the same page. When we're all not on the same page, we don't go out and play the way we want to play."
Those long third downs required passing plays and twice ended in interceptions. Once, on a third-and-19 in the second quarter, Fitzpatrick tried to make something happen and instead threw his second interception.
"There's plenty of shorter options there where I could just get us out of Dodge, check it down, not trying to be a hero at the end of the half," Fitzpatrick said. "That one really hurt because I know I'm a better and smarter player than that."
He showed as much in the Texans' first two games. Sunday's just proved too much.