January, 26, 2015
Jan 26
12:06
AM ET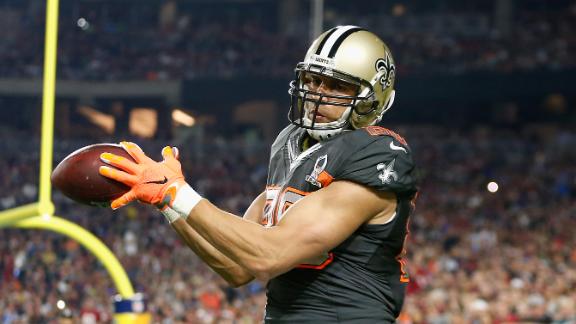 Andy Dalton
still hasn't won a game in January.
With 3:10 remaining in
Sunday night's Pro Bowl
at University of Phoenix Stadium in Glendale, Arizona, the
Cincinnati Bengals
quarterback had a chance to lead a dramatic comeback drive that would have given his team the win and an additional $27,000 in his and his teammates' pockets.
None of that would happen, though.
After generating momentum and getting his offense into the red zone, Dalton effectively ended Team Carter's (coached by Hall of Fame receiver and ESPN analyst Cris Carter) hopes at winning 13 plays later when he delivered a poorly-thrown pass that fell several yards away from the two pass-catchers that were in its vicinity. Rushed by four defensive linemen, including his Bengals teammate
Geno Atkins
, Dalton delivered the throw off his back foot while trying to avoid the rush.
The incomplete pass, thrown with 53 seconds left in the game, sealed the 32-28 win for Team Irvin (coached by Hall of Fame receiver Michael Irvin).
Only once on the drive did Dalton target his Bengals teammate, A.J. Green. It was one of three passing attempts Green drew from Team Carter's quarterbacks. He didn't catch a single one of them. Defended by
Miami Dolphins
cornerback
Brent Grimes
on all three plays, Green had a tough time generating enough space to make a catch. The lone target he had from Dalton landed well short of his feet as Dalton felt Grimes stepping up for an interception, and decided to throw short so the corner couldn't complete the pick-off.
Dalton completed four of his first five throws on the final drive -- all screens or other short routes to running backs
Alfred Morris
or
Justin Forsett
. After Forsett's 13-yard reception put Team Carter at Team Irvin's 19, Dalton missed on four-straight passing attempts, including the one to Green. Officially,
Carolina Panthers
tight end
Greg Olsen
was credited with being targeted on Dalton's last incompletion, but the fourth-down throw was headed toward both he and
Pittsburgh Steelers
receiver Antonio Brown.
Dalton, voted the seventh alternate by fans in December, was added to the Pro Bowl roster last week after the Super Bowl quarterbacks were forced into missing the game, and also after Baltimore's
Joe Flacco
bowed out because of the birth of his child. The Bengals' signal-caller who signed a six-year contract extension in August went 9-for-20 for 69 yards Sunday. He was sacked once, had a 54.0 passer rating and averaged 3.5 yards per completion.
Like Green, Atkins didn't have any statistical contributions. The Bengals' other Pro Bowl selection, punter
Kevin Huber
, had one 56-yard punt that traveled to the opposing 6 before the return team tried to bring it back with a lateral. The return only went for eight yards.
Dalton still hasn't won a game in January. He entered the Pro Bowl 0-5 in regular-season and playoff games in the month. His latest January loss was his 26-10 loss at Indianapolis on Jan. 4.