October, 21, 2014
Oct 21
5:20
PM ET
PITTSBURGH -- The
Pittsburgh Steelers
reached into their bag of trick to score the touchdown that put them ahead for good in a 30-23 win over the
Houston Texans
.
But coach Mike Tomlin was in no mood to talk about wide receiver
Antonio Brown
's 3-yard touchdown pass to
Lance Moore
the day after it happened -- or at least discuss how the play came about with the Steelers trailing the Texans late in the first half.
Brown
Steelers quarterback
Ben Roethlisberger
told 93.7 The Fan in Pittsburgh on Tuesday morning that Tomlin called the play in which Brown took a pitch in the backfield, pivoted back to his left and hit Moore in the end zone.
Tomlin refused to confirm that he had indeed made that play call, though he did not deny it either.
"I take responsibility for all calls," Tomlin said Tuesday at his weekly news conference. "I'm not going to get into the intimate details about how we administer our business on the sidelines during the course of football games. I don't think that's prudent. I don't think that helps us."
When asked what the Steelers were thinking as a team when they opted for Brown to throw a pass near the goal-line, Tomlin said, "The idea is to score and Antonio has proven to be a guy who is capable delivering plays for us, whether it's running the ball or throwing the ball. You just want to put the ball in playmakers' hands, and he is that."
Brown caught nine passes for 90 yards in addition to his scoring toss, and the two-time Pro Bowler probably should have finished with over 100 receiving yards and a touchdown.
Brown made a spectacular 16-yard catch in the corner of the end zone in the fourth quarter and appeared to get both feet in bounds, if only by an inch, for a touchdown that would have likely put the Texans away.
But the ruling of a touchdown on the field was reversed after a video review and the Steelers had to settle for a
Shaun Suisham
field goal that gave them a 27-16 lead. Brown took to social media after the game to voice his displeasure with having a touchdown taken away from the Steelers.
The fifth-year veteran posted a picture on his Twitter account that showed both of his feet in bounds and wrote "[bleeping] refs."
Tomlin said he did not know anything about what Brown wrote on his Twitter account.
"I don't get into the social media stuff," Tomlin said. "I thought it was an extremely close play and usually when plays are that close they stay with the ball on the field. I was of the impression that it was going to remain [a touchdown]."
When asked if he has a problem with Brown protesting the call the way he did, Tomlin said, "We're professionals. I expect them to behave that way both on and off the grass."
October, 21, 2014
Oct 21
4:50
PM ET
The
Cleveland Browns
have passed on nine easy points in the last two road games trying to continue drives on fourth-and-short. Three times, they failed to convert.
This shows coach Mike Pettine's aggressiveness, which players can appreciate, but the calls can haunt a coach when they don't work.

Pettine
Did Pettine second-guess the decision to go for fourth-and-1 in field goal range while up 6-0 at Jacksonville this past Sunday, especially after the Jaguars converted a touchdown off Cleveland's failed attempt?
"When it doesn't work out, absolutely," Pettine said.
Pettine is not afraid to take his chances. The Browns are 2-of-7 (28.6 percent) on fourth downs this season, good for 28th in the league.
Two conversion tries came while down double digits against the Titans, so the need for six points instead of field goals was understandable. The Jacksonville call was tough to digest for two reasons. One, the Browns gave up all momentum entering the half because of the gamble. And two, they didn't use their strength, the running game, to try to get one yard. Instead, they ran a route for
Jordan Cameron
that looked doomed from the start.
Pettine said he gauges situational football with fourth-down calls but also goes by "feel." In the case of the Jacksonville play, Pettine felt his defense was playing well enough to stop the Jaguars in case the Browns didn't convert, plus he didn't want to settle for field goals all game. Turns out the Jags marched 76 yards downfield in 57 seconds to make it 7-6, the worst possible outcome.
"I get the analytics behind it, but to me, all the circumstances are different," Pettine said of going for fourth downs. "I know you can just look at paper and say, 'Hey, they're converted at this rate,' but to me, you have to factor in the circumstances of the game. That's what I do, but I think in general, I'll tend to be a little more on the aggressive side. It's somewhere in between."
Once the Browns convert a crucial fourth down on the road, Pettine can be justified in his confidence in his offense. That doesn't make the Jacksonville call any less painful.
Pettine has conviction regardless. He knew he was going for the fourth down two plays before.
"When it was second-and-1 we made a decision, 'Hey, we're in four-down mode,'" Pettine said. "That's ... you live with it."
October, 21, 2014
Oct 21
2:30
PM ET
PITTSBURGH -- Linebacker
Ryan Shazier
is likely to return Sunday for the
Pittsburgh Steelers
after missing the last four games because of a sprained knee.
Shazier ran on the Heinz Field turf Monday night prior to the Steelers'
30-23 win
over the
Houston Texans
. The Steelers also took a look at safety
Shamarko Thomas
, who has been out with a hamstring injury, prior to the game before deactivating both players.
"At the 11th hour we decided to use some other people," Steelers coach Mike Tomlin said Tuesday at his weekly news conference. "We expect both guys to be extremely close (to returning)."
Tomlin seemed less sure about starting right tackle
Marcus Gilbert
.
The fourth-year veteran left the win over the Texans in the second quarter with a concussion, and he has a short week to pass the battery of tests that will be required for Gilbert to play Sunday against the visiting
Indianapolis Colts
.
Mike Adams
will start at right tackle if Gilbert is not cleared to play against the Colts, who will bring a five-game winning streak to Heinz Field and are tied for third in the NFL with 21 sacks.
Adams played extensively Monday night for the first time this season, and Tomlin was pleased with how the 2012 second-round draft pick held up against the Texans' front seven and All-Pro defensive end
J.J. Watt
in particular.
"I thought he did an admirable job. Obviously, it's not easy going in in the manner in which he did, some of the things we had to do from a game plan standpoint, the movement of J.J. Watt and how they employ their defense," Tomlin said. "But aside from the technical things and the assignment things, I just thought he played with great energy and finished. He had a good look in his eye. Great night for him and we needed him to step up."
October, 21, 2014
Oct 21
12:30
PM ET
BEREA, Ohio -- The
Cleveland Browns
might be without defensive lineman
Ahtyba Rubin
for some time.
Coach Mike Pettine said Rubin went for a second opinion on an injured ankle. He has missed the last two games.
Pettine was asked if surgery could be a possibility.
Rubin
"I would think all options are on the table at this point," he said. "I haven't heard that brought up yet, but I'm assuming that could be the case."
The Browns will have an update on Rubin's status Wednesday.
Rubin's injury highlights one of the more disappointing position groups on the team. The defensive line was supposed to be a team strength. But the defense ranks last in the league in run defense, giving 155.5 yards per game. Not all of that falls on the line, but it is the first 'line' of defense.
In a separate personnel move, the team waived fullback
Ray Agnew
and promoted Kiero Small from the practice squad.
"He's been doing an outstanding job for us on the scout teams," Pettine said. "We just felt it was time to promote him and see what he can do."
There was also word that Seattle was about to sign Small to the Seahawks' active roster, which teams can do with practice squad players.
October, 21, 2014
Oct 21
12:30
PM ET
Baltimore Ravens
coach John Harbaugh talked about how his team's "eyes are on the horizon" just minutes after slamming the
Atlanta Falcons
on Sunday.
What lies ahead are the two most important games on the Ravens' schedule. Playing on the road at Cincinnati and Pittsburgh represents a prime opportunity to send a message to the AFC North.
Sure, the Ravens became the unofficial champion of the NFC South by routing Carolina, Tampa Bay and Atlanta over the past four weeks. Winning by an average margin of 27 points against the worst division in the NFL has allowed the Ravens to forge an identity of a dangerous offense and a stifling defense.
Joe Flacco
is throwing touchdowns at a career record pace, and the Ravens' pass rush is striking fear into quarterbacks.
[+] Enlarge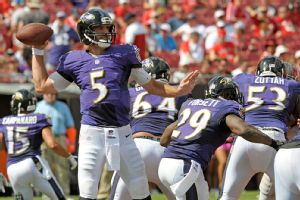 AP Photo/Steve NesiusJoe Flacco and the Ravens have road games at Cincinnati and Pittsburgh the next two weeks.
Now, it's time for the Ravens to take business in their own dysfunctional division. The Ravens (5-2) won't clinch anything if they win at Cincinnati and Pittsburgh, something they haven't done in the same season since 2011. But the Ravens can grab the AFC North by its throat if they can avenge a season-opening loss to the Bengals and complete a season sweep of the Steelers.
Based on the last few weeks, this division is theirs for the taking. The reeling Bengals (3-2-1) haven't won since Sept. 21 after starting 3-0. The third-place Steelers (4-3) have lost to two last-place teams in the
Tampa Bay Buccaneers
and
Cleveland Browns
. And the Browns (3-3) fell to the previously winless
Jacksonville Jaguars
by 18 points only a week after hammering the Steelers.
The Ravens have proven to be the AFC North's most complete team in winning five of their past six games. Flacco is the NFL's eighth-highest rated passer (97.2), and
Justin Forsett
is the league's No. 5 rusher (71.9 yards per game). Their defense has allowed the fewest points in the NFL because of an oppressive pass rush and a physical run stoppers.
Harbaugh made it clear Monday that he doesn't want to hear any compliments. Whenever a reporter asked about a positive aspect of the team, Harbaugh responded with a one-sentence answer. The message is the Ravens aren't thinking of what they did the past few weeks. Like he said after Sunday's game, their eyes are squarely on the future.
"We have a lot of football to play, and we're not a good enough football team right now to accomplish the things that we plan on accomplishing," Harbaugh said. "The ball is in our court. We need to go get that done."
Of course, the Ravens' fortunes can easily go the opposite direction by losing the next two weeks. They will hand first place back over to the Bengals if they lose Sunday, and they only hold a one-game lead over the Steelers. On the other hand, the Ravens can essentially gain a two-game cushion over the Bengals and Steelers with two wins as well as improve to 4-1 within the division.
Once the Ravens get past these two division road games, the second half of the season sets up quite favorably. The combined record of the last seven opponents is 19-27 (.413), and there is currently only one team with a winning record in that stretch (the
San Diego Chargers
at 5-2).
That's why their games at Cincinnati and Pittsburgh are far from must-wins. But winning sends a statement that the AFC North is theirs.
Asked what he hopes to learn about his team over the next two games, Harbaugh said, "I'm looking forward to finding out. It's a big deal."
October, 21, 2014
Oct 21
11:00
AM ET
A weekly look at what the Bengals must fix:
Oh, how the
Cincinnati Bengals
long for the days earlier this season when their week-to-week fixes were considerably minor. That's not the case after Sunday's disaster at Indianapolis. Following their
27-0 loss to the Colts
, there are a host of issues they have to work through going into this Sunday's game at Paul Brown Stadium against the
Baltimore Ravens
.
With help from offensive coordinator Hue Jackson, here is a list of items the offense has to
tweak and change and adjust within the next five days
. For the purposes of this post, we aren't going to focus on any of those. One other simple, seemingly easy fix the Bengals can make this week is to be better offensively on first down. By getting off to a good start at the beginning of drives, a team can set itself up for a more favorable outcome by the end of it.
Third downs were the bane of the Bengals' existence Sunday, as they converted just one of their 13 tries. The main reason they had such difficulty with those conversions was because 10 of the 13 third downs came on third-and-7 or longer scenarios. When a team has that far to go to get a first down, it typically doesn't bode well for their chances of converting. How were the Bengals consistently getting stuck in that position? Because on six of the 14 drives they had in the game, they either didn't gain a yard or went backward on first down. Such poor starts to drives hurt them when it was time to convert on third down.
Here's another reason the Bengals need shorter third downs. This season, they have converted 62 percent of their third downs with 4 or fewer yards to go, and haven't allowed a sack or turnover in those scenarios. They have converted just 30 percent of their third downs with 5 or more yards to go, allowing three sacks and throwing two interceptions.
There are fixes the Bengals need to make on defense, too, but they could help their defense by keeping it off the field. They can do that by having bigger gains on first down, making it easier to convert shorter third downs.
October, 21, 2014
Oct 21
11:00
AM ET
A weekly look at what the
Baltimore Ravens
must fix:

Joe Flacco
's blind side will be an area of major concern Sunday against the
Cincinnati Bengals
if offensive tackle
Eugene Monroe
doesn't return for the Ravens.
James Hurst
, who has filled in for the injured Monroe, has looked like an undrafted rookie in his four starts. Over the past three weeks, Hurst has given up three sacks, two quarterback hits and five hurries. He's also been flagged for four penalties, including three for holding on Sunday.
The Ravens went with Hurst because he's a hard worker and is intelligent. He's not a liability in terms of missing an assignment. His shortcoming is athleticism, which isn't surprising for a tackle who wasn't drafted. Hurst struggles with speed rushers off the edge because of his footwork. When there is a mismatch like this, Hurst either gets beat or is forced to hold.
There is a chance that the Ravens could get back Monroe, who had surgery on his knee on Sept. 24. Monroe practiced once last week and was listed as doubtful for this past Sunday's game.
The Ravens will need Monroe when they play at Cincinnati, where first place in the AFC North is on the line. Bengals defensive end
Wallace Gilberry
, who will line up against the Ravens' left tackle, had 1.5 sacks in the season opener in Baltimore and is tied for the NFL lead with 19 quarterback hurries this season.
October, 21, 2014
Oct 21
11:00
AM ET
A weekly look at what the
Cleveland Browns
must fix:
Luckily for the Browns, this week's opponent, the
Oakland Raiders
, allow 145.3 rushing yards per game, which is 29
th
in the league. Cleveland is determined to run the ball. But if the Raiders can somehow keep the Browns in third-and-long situations at least half the time, they can thwart the Browns' play-action and tee off on the depleted right side of the offensive line.
The Browns finished 4-of-17 on third down in this past Sunday's 24-6 loss to Jacksonville. They converted less than 25 percent of those attempts because of where they started; they faced 10 plays of third-and-7 or longer. Jacksonville held the Browns to 2.3 yards per carry, which made third down easy to manage for the Jaguars. The loss of center
Alex Mack
forced
Paul McQuistan
to start at right guard, where he struggled mightily. Sunday should be a chance for Raiders tackle
Justin Ellis
to apply pressure on
Brian Hoyer
up the middle.
The Browns' offense is largely about rhythm -- getting a few quick first downs with the run to set up a big passing play -- but defenses will have eight players in the box unless the Browns can stretch the field with receivers early and often. Jacksonville did, and Oakland will try.
October, 21, 2014
Oct 21
2:15
AM ET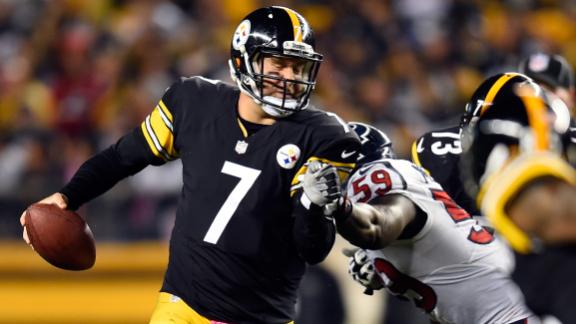 PITTSBURGH -- The
Pittsburgh Steelers
made a statement Monday night, pulling their season from the brink shortly after boos had rained down on them in their own stadium.
Defensive end
Cameron Heyward
made an even bigger statement after the Steelers overcame an early 13-0 deficit and held off the
Houston Texans
30-23
at Heinz Field.
Heyward, talking about the play of fellow defensive end
Brett Keisel
, said, "He turned back time. He was the best [No.] 99 out there."
Such a statement would seem ridiculous on the surface.
Keisel, who turned 36 last month, did not even re-sign with the Steelers until late August because of lukewarm interest from the organization. The other No. 99 in the nationally televised game was Texans defensive end
J.J. Watt
.
Watt is only the best defensive player on the planet and owns a list of NFL accomplishments that is longer than Keisel's beard.
Watt, as the Steelers could attest after improving to 4-3, can be contained only to a certain degree. The Steelers largely did a good job against the 6-foot-5, 289-pounder, and he still finished with three tackles, a sack, two quarterback hurries and a fumble recovery.
[+] Enlarge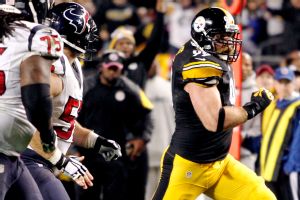 Justin K. Aller/Getty ImagesBrett Keisel's interception led to the third Steelers touchdown during the final two minutes of the first half.
His stat line easily trumped the one turned in by Keisel.
His impact on the game, however, did not.
Keisel's fingerprints were all over one of the more bizarre stretches in the history of Heinz Field, one in which the Steelers needed just five plays and less than two minutes of possession to put together three touchdown drives.
That sequence changed everything -- maybe even the Steelers' season.
It seemed so out of place coming from a team that managed just two offensive touchdowns over its previous two games, against the
Jacksonville Jaguars
and
Cleveland Browns
, that you half expected to see cows flying over Heinz Field at halftime.
Less improbable, though maybe only slightly so given how much the NFL is a young man's game, was Keisel making more of an impact on Monday night than Watt.
Keisel hurried Texans quarterback
Ryan Fitzpatrick
into a third-down incompletion that forced a punt with the Steelers trailing 13-3 and just less than two minutes left in the second quarter. Two plays later,
Ben Roethlisberger
threw a 35-yard touchdown pass to rookie wide receiver
Martavis Bryant
.
After a takeaway by the Steelers defense led to another quick touchdown, Keisel turned in one of the plays of the game. With just more than a minute left in the first half, Keisel redirected a Fitzpatrick pass when the Texans weren't content to run out the clock and go into the locker room trailing by four points. After Fitzpatrick's pass clanked off the face mask of linebacker
Lawrence Timmons
, it landed in one of Keisel's ample mitts.
He started rumbling toward the end zone and made it to the 8-yard line. Two plays later, Roethlisberger found
Le'Veon Bell
for a 2-yard touchdown pass with 14 seconds to spare in the second quarter.
The Texans never recovered from that barrage of points.
After the Steelers survived a late rally and an onside kick attempt that almost went in the Texans' favor, Keisel was asked if the three-minute stretch at the end of the first half, which started with a field goal at the 3:08 mark and resulted in 24 unanswered points, saved the season. "I don't know," he said, "It's still early [in the season] -- well, about halfway."
It is late enough for Keisel to know the Steelers have to start stringing together victories.
That is why he didn't plan on allowing himself or his teammates much time to celebrate a win the Steelers had to have on Monday night.
"We can't just win and lose one, win and lose one," Keisel said. "We've got to be able to have the same urgency after a win as we have after a loss."
October, 21, 2014
Oct 21
1:15
AM ET
PITTSBURGH -- Observed and heard in the
Pittsburgh Steelers
' locker room after a
30-23 win
over the
Houston Texans
Monday night at Heinz Field.
Timmons

Linebacker Lawrence Timmons starred, registering a game-high 12 tackles as well as a sack. The eighth-year veteran also turned into an Internet sensation as he was leading one of the Steelers' better defensive efforts of the season. Timmons vomited several times during the game -- video of it quickly made its way to the internet -- though he said he wasn't sick afterward. Timmons said his stomach problems first started after Texans quarterback Ryan Fitzpatrick inadvertently kicked him in the stomach. He later vomited after over-hydrating to replace the fluids he had lost after Fitzpatrick kicked him. "Just a little bloated," Timmons said, "but I'm good now."
The Steelers scored 24 unanswered points with three minutes left in the second quarter to turn a 13-point deficit into an 11-point halftime lead. Coach Mike Tomlin said the play that led to that barrage of points happened when the Steelers, down 13-0, were facing third-and-10 from their own 14-yard line. Le'Veon Bell caught a short pass over the middle and turned it into a 43-yard catch and run. The Steelers' longest play of the season allowed them to flip the field and get on the scoreboard after a 44-yard field goal by Shaun Suisham. "They were in man-to-man. He won versus a linebacker," Tomlin said of Bell's 43-yard catch. "I think that provided the type of emotion that the group needed."
A short week won't help right tackle Marcus Gilbert as he tries to come back from a concussion. Gilbert left the second quarter and did not return. The fourth-year veteran will have to pass a battery of tests before he is cleared to play Sunday against the visiting Indianapolis Colts. Gilbert sustained the only injury of note against the Texans, Tomlin said. Mike Adams replaced Gilbert and played his first extended snaps of the season. The Steelers almost had to replace their starting left tackle, too, during the game. Kelvin Beachum went down with a shoulder injury late in the third quarter but he didn't have to miss any snaps because of the change in quarters. "It was touchy there for awhile," Tomlin said. "We were about to see (center Maurkice Pouncey) at left tackle."
October, 20, 2014
Oct 20
11:37
PM ET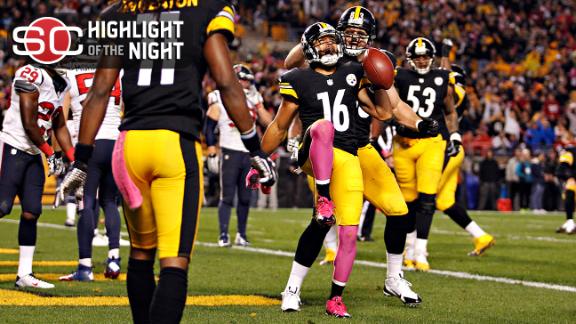 A few thoughts on the
Pittsburgh Steelers
' 30-23
win
over the
Houston Texans
on Monday at Heinz Field.
What it means:
The Steelers saved their season with a second-quarter blitz, in which they scored 24 unanswered points, including 21 in the span of 1 minute, 22 seconds. The Steelers gave up nearly 400 yards of total offense and had to survive a late rally by the Texans and a harrowing onside kick attempt to improve to 4-3. They had been on the precipice earlier in the night when boos rained down after they fell behind 13-0. Quarterback
Ben Roethlisberger
completed 23 of 33 passes for 265 yards and two touchdowns, and running back
Le'Veon Bell
piled up 145 yards from scrimmage and a touchdown. The defense forced three turnovers and the Steelers won the special-teams battle.
Stock watch:
A maligned defense rose to the occasion several times in the pivotal first half. It held the Texans to a pair of early field goals, including once after Roethlisberger lost a fumble at the Steelers' 46-yard line. The defense then led the charge late in the second quarter. Outside linebacker
Jason Worilds
forced a fumble and recovered it at the Texans' 3-yard line to set up the Steelers' go-ahead touchdown. After the ensuing kickoff, defensive end
Brett Keisel
intercepted a
Ryan Fitzpatrick
pass and returned it to the 8-yard line, setting up another touchdown at the end of the half.
Prime-time player:
Martavis Bryant
, dressing in his first NFL game, turned in the biggest play and showed that the stage isn't too big for the rookie wide receiver. Bryant caught a 35-yard touchdown pass late in the second quarter, turning the game in ways no one could have imagined at the time. Bryant played early and often, shaking up things a bit at wide receiver. The fourth-round draft pick got a 1½ steps on Texans cornerback
A.J. Bouye
on a go route early in the game, but Roethlisberger overshot him. The two connected late in the second quarter after Bryant again got behind the Texans' secondary. Roethlisberger put enough air under the ball for Bryant to catch it and get two feet in bounds before crashing into the short wall behind the end zone.
Game ball:
Keisel gets it for the plays he made when the Steelers seized control of the game. Keisel's quarterback pressure forced a third-down incompletion from Fitzpatrick late in the second quarter that led to a punt. Two plays later, Roethlisberger and Bryant hooked up for the Steelers' first touchdown of the game. With a minute left in the half, Keisel intercepted a pass that he initially tipped and returned it to the Texans' 8-yard line. That led to the touchdown that gave the Steelers a 24-13 lead.
Injury report:
Right tackle
Marcus Gilbert
left the game in the second quarter with a possible concussion and did not return. Left tackle
Kelvin Beachum
left the game late in the third quarter with a shoulder injury but quickly returned. Rookie linebacker
Ryan Shazier
ran on the field before the game with trainer John Norwig, but the Steelers held their first-round pick out for a fourth consecutive game because of a sprained right knee.
What's next:
The Steelers host the red-hot
Indianapolis Colts
on Sunday for a 4:25 p.m. ET game. The Colts have won five consecutive games after opening the season 0-2. Quarterback
Andrew Luck
has thrown for more than 300 yards in five consecutive games and has established himself as a legitimate MVP candidate.
October, 20, 2014
Oct 20
7:35
PM ET
PITTSBURGH -- Wide receiver
Martavis Bryant
and nose tackle
Daniel McCullers
will each dress for their first NFL game when the
Pittsburgh Steelers
host the
Houston Texans
tonight at 8:30 ET.
Bryant takes the game-day roster spot of
Justin Brown
, who is inactive for the first time this season. McCullers, who is also a rookie, is dressing with starting nose tackle
Steve McLendon
out because of a shoulder injury.
The Steelers will wait another week to bring back
Ryan Shazier
, who has been out since spraining his right knee in a Sept. 21 game.
Shazier, who ran on the field before the game and tested his knee under the watchful eye of trainers John Norwig, joins McLendon, cornerback
Ike Taylor
(forearm) and
Shamarko Thomas
on the Steelers' inactives list because of injuries.
The Steelers' three healthy scratches are Brown, quarterback
Landry Jones
and guard
Chris Hubbard
.
Texans outside linebacker
Jadeveon Clowney
will miss his sixth consecutive game because of a right knee injury. Clowney, the No. 1 overall pick of the 2014 NFL draft, tested his knee before the game but the Texans will err on the side of caution.
October, 20, 2014
Oct 20
7:15
PM ET
CINCINNATI -- Chicken Little doesn't have a locker inside Paul Brown Stadium.
At least, according to two
Cincinnati Bengals
veterans he doesn't.
[+] Enlarge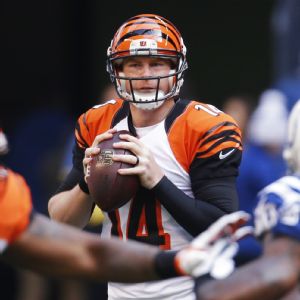 AP Photo/AJ MastDespite a dismal-seeming record of 3-2-1, Andy Dalton and the Bengals still have 10 games to play.
The sky isn't falling inside the Bengals' locker room, team stalwarts
Andrew Whitworth
and
Domata Peko
said Monday, even though they are well aware that outside the comforts of their four walls, the perception is that it is.
"It's not the end of the world, guys," Peko said, smiling as he looked directly into a local news camera after answering a series of questions about the Bengals'
27-0 loss
at Indianapolis on Sunday. "We'll be all right."
Peko was sending a message to panicked Bengals fans nervous about what the team's two-loss, one-tie showing the past three weeks might portend.
"I told a lot of guys, 'come on, we'll be all right,'" Peko said. "We've got 10 games left. Let's just take it one game at a time."
Whitworth encouraged his teammates to remain patient.
"If you are playing NFL football and you are panicking, then you are not going to be in this league for very long," Whitworth said. "You have an opportunity every week in the NFL to win. That's been proven more often this year than any. One place is not safe for the whole year."
As much as Whitworth hopes words like those may prove comforting to his teammates, for most Bengals fans they don't change the fact the team is now 3-2-1 after bolting out to a 3-0 start that had NFL analysts and fans alike believing this was the year the Bengals finally made it back to the Super Bowl. After 26 years, they would finally get their third chance to win the Lombardi Trophy, many believed.
But an arrhythmic, out-of-sync offense, a tired, inconsistent defense, and one missed field goal have combined to make the Bengals look like a shell of their former selves, and to put Who Dey Nation on alert. The masses weren't happy with Sunday's no-show performance by the offense, and they are roiling about what could be next this weekend when the Bengals host the Ravens.
Baltimore, 5-1 since losing to the Bengals in the season opener at M&T Bank Stadium, currently sits atop the AFC North. A win and the Bengals can reclaim their top spot, as well as control any possible late-season tiebreakers by sweeping the Ravens.
"As high as you were through the first three games and as low as you are through these last three, you have to be ready the next week to have your opportunity," Whitworth said. "If you are not ready then you are going to miss it, and you won't be around for long. This team has to find ways to get ready for this next opportunity, this next run. That's all this league is about. It's about going on runs, it's about making plays. We need to be prepared to do that."
Mid- and late-season runs have played key roles in the Bengals' three straight playoff appearances the past three seasons. In 2011, they won five in a row in October and early November. In 2012, they bounced back from four consecutive losses to win four straight. They ended that season going on a 7-1 run across November and December. Last season, respective four-game and three-game winning streaks powered the 11-5 finish.
October, 20, 2014
Oct 20
6:25
PM ET
PITTSBURGH -- Quarterback
Ben Roethlisberger
has generally refrained from commenting on criticism of the
Pittsburgh Steelers
by former coach Bill Cowher and Hines Ward, the organization's all-time leading receiver.
Roethlisberger
He did fire back a bit at Steelers' critics in a one-on-one interview with ESPN's Lisa Salters, who will be a sideline reporter for tonight's
Houston Texans
-Steelers game.
"They don't know what they're talking about because they're not here so we kind of just laugh it off," Roethlisberger said. "A lot of people outside of this locker room are going to talk, are going to point fingers. We don't have time for that."
Ward leveled the strongest criticism against Roethlisberger last week, placing blame for the Steelers' offensive struggles on the veteran quarterback.
Ward said Roethlisberger's play-calling is the biggest reason why the Steelers are No. 31 in the NFL in red zone efficiency. Offensive coordinator Todd Haley said last week that Roethlisberger has called less than 30 percent of the plays this season.
Roethlisberger declined to comment directly on Ward's criticism to ESPN.com last week.
He told Salters that he looks at criticism from Ward and Cowher as coming from the media -- even with their deep ties to the Steelers' organization.
"A lot of the media likes to point fingers," Roethlisberger said, "and a lot of times they don't know what they're talking about."