September, 30, 2014
Sep 30
2:00
PM ET
One last look back at the
New York Jets
' 24-17 loss to the
Detroit Lions
:
Picking on Harris:
When a team has a rough day defending the pass, the blame usually falls on the cornerbacks. The Lions beat cornerback
Antonio Allen
for the biggest play of the game, a 59-yard touchdown, but they did much of their damage in the short and intermediate zones in the middle of the field. They went after linebacker
David Harris
, and went after him hard. Harris, not known for his pass coverage, surrendered seven completions on seven targets for 123 yards and a touchdown, according to Pro Football Focus.
[+] Enlarge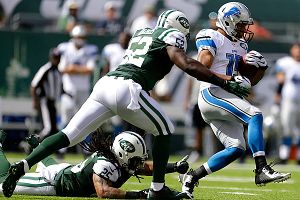 AP Photo/Frank Franklin IIThe Lions picked on linebacker David Harris time and again in pass coverage on Sunday.
Harris allowed 35- and 23-yard completions to wide receiver
Golden Tate
, missing a tackle on the first one that added to the gain. You can't blame Harris for the second play, though. He was matched against Tate in the slot, and there's no way you can expect him to cover a wide receiver. Credit the Lions, who created the mismatch by using an empty backfield against the Jets' base personnel.
At the end of the second quarter,
Matthew Stafford
picked on Harris again, hitting tight end
Eric Ebron
for a 16-yard touchdown. Rex Ryan made a conservative call on second-and-10, rushing only three and dropping eight. It was a rare Cover 2 look, with
Dawan Landry
and
Jaiquawn Jarrett
in a two-high safety formation. Harris dropped into middle coverage, picking up Ebron on a seam route. Stafford made a nice, back-shoulder pass and -- boom -- touchdown.
Double-A's hiccup:
Ryan wouldn't say who messed up on
Jeremy Ross
' 59-yard touchdown reception, but it certainly appears that Allen was the guilty party. The Jets played "quarters" coverage, meaning four defensive backs were responsible for the deep quarters of the field. They sent
Kyle Wilson
on a slot blitz, but Stafford still had time. Allen covered Ross out of the slot and bit ever so slightly on a pump fake/double move, allowing the receiver to get behind him. To make it worse, Allen missed the tackle at the 15. The killer: It came on a third-and-10. The Jets' third-and-long defense was exposed by the Lions, who played with a diminished
Calvin Johnson
. Imagine if Johnson had been healthy.
Geno's big mistake:
Geno Smith
was unsettled throughout the game, overthrowing open receivers and displaying shaky ball placement on his completed passes. Under duress, he was only 3-for-11 for 51 yards and an interception, according to PFF. When he had time to throw, he was 14-for-22, 158 yards and a touchdown. A pretty stark contrast, huh?
Smith took a big hit from
Ezekiel Ansah
on the interception, so it's hard to blame him entirely for the turnover. The offensive line went down like bowling pins -- really. Right tackle
Breno Giacomini
fell into center
Nick Mangold
, who caused left guard
Brian Winters
to fall down. A few yards away, right guard
Willie Colon
went down while trying to block
Ndamukong Suh
. And, oh, yeah, running back
Bilal Powell
also tripped. It was Keystone Cops-like. The only blocker that stayed on his feet was left tackle
D'Brickashaw Ferguson
.
Under pressure, Smith forced the pass to
Eric Decker
, who ran an in-cut. The Lions disguised their coverage brilliantly. Cornerback
Darius Slay
dropped off Decker and assumed a safety position, switching places with the safety. Smith sailed his pass, as he tends to do. Sure enough, there was Slay, backing up the play to make the interception on the overthrow. Meanwhile,
Jeremy Kerley
and
Jeff Cumberland
were wide open in the left and right flats --
wide
open. Smith should've checked it down to Kerley or Cumberland instead of throwing into traffic.
The strip sack:
On the ensuing possession Smith lost the ball on a strip sack by ex-Jet
James Ihedigbo
, who was unblocked on a safety blitz. No doubt, Smith could've done a better job of seeing the blitz, but it wasn't all his fault. The Lions rushed five. Running back
Chris Johnson
, in pass protection, was confronted by two blitzers. Players are taught to block the inside rusher in that type of situation, and Johnson did that. That gave Ihedigbo a free shot at Smith. One of his hot reads, Kerley, tripped on his pass route. That may have caused Smith to hold the ball longer than he wanted.