Minnesota's starting QB plan
October, 9, 2013
10/09/13
8:58
AM ET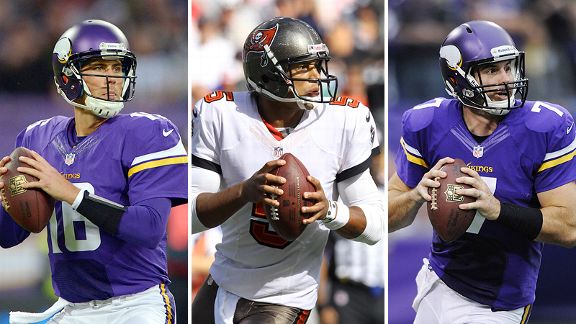 USA TODAY Sports, Getty ImagesThe Minnesota Vikings now have plenty of options at quarterback.
Adam Schefter answers reader questions in his mailbag once a week during the NFL preseason and regular season. Have a query of your own? Submit it here.
Q:
By releasing Matt Flynn, the Oakland Raiders have clearly handed over the keys to Terrelle Pryor as the starter. What are you hearing from around the league on the potential for him as a long-term starter?
-- Paul (California)
A:
If you watched "NFL Insiders" on Monday (3 p.m. ET), Paul, former Colts general manager Bill Polian had an incredibly revealing statement. Polian said that Pryor is the most improved player in the league that he has seen. Pryor has opened everyone's eyes, demonstrated extreme improvement and given Oakland some optimism he can be its quarterback of the future. Now Oakland did have some interest in Freeman, so Pryor has to continue to play well and prove that he is still improving. But so far, the signs are encouraging. He doesn't look like an elite quarterback yet, but he does look a lot better than most people around the league expected.
Q:
Adam, what do you think the Minnesota Vikings will do at quarterback this season? I know Leslie Frazier has said that Josh Freeman won't start this weekend, but don't they have to give him a shot sooner rather than later with the contract they just gave him?
-- Owen (Minnesota)