Preseason's most significant injuries
August, 9, 2013
8/09/13
9:25
AM ET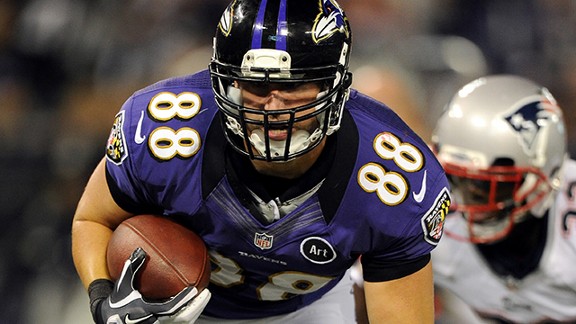 Patrick Smith/Getty ImagesLosing Dennis Pitta for the season was a big blow for the Baltimore Ravens.
Adam Schefter answers reader questions in his mailbag once a week during the NFL season. Have a query of your own? Submit it here.
Q: Do you think the New York Jets should start Mark Sanchez this season? I feel like we should give Geno Smith a chance to prove his worth, and if we lose there are always good QBs coming up in this year's draft. Right?
-- Colin (New Jersey)
A:
It's tough to say either quarterback should start when neither has played a preseason game yet, Colin. Right now, through the first couple of weeks of camp, it appears Sanchez has a slight lead. But it will surprise no one if Smith overtakes him in the next four games to start Week 1. However, here's the deal: Once the Jets turn to Smith, they can't go back to Sanchez; if they start with Sanchez, they always can go to Smith. Keep in mind this week that their preseason opener is on the road, and it's easier to start Sanchez under those circumstances. Next week the Jets play at home, where it might be easier to start Smith. But the fact is, one of these quarterbacks has to win this job this summer, and it's too early to say who deserves it.