Potential suitors for Mike Wallace
October, 31, 2012
10/31/12
9:44
AM ET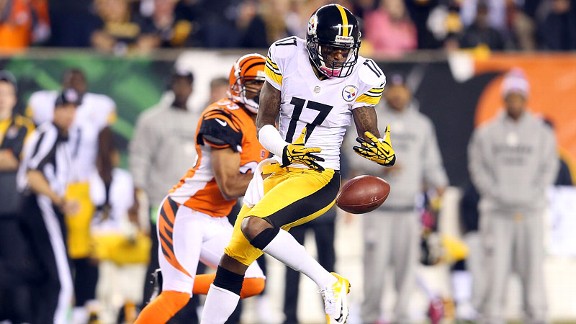 Andy Lyons/Getty ImagesMike Wallace likely won't be back in Pittsburgh after this season. Where could he land?
Adam Schefter answers reader questions in his mailbag on Wednesdays during the NFL season. Got a query of your own? Submit it here.
---
Q:
How good are the Denver Broncos right now, Adam? To me, they seem like the best team in the AFC and, with no disrespect to Matt Ryan, I think Peyton Manning is the MVP so far.
-- Jared (Louisiana)A:
That argument could be made, Jared. That's how good Peyton has been. But you're also talking about him in that light after two of his best games of the season, at San Diego and at home against New Orleans. Ryan has been strong all seven weeks, including a game against Denver in which he outplayed Manning. But here's the deal: We're only seven games into the season. There still are nine more weeks to figure out which MVP candidate is more worthy. The best players make the biggest plays in November and December. As for Denver, the night it beat the Chargers was the night the Broncos unofficially clinched the AFC West. Nobody in that division -- and I don't care how close they are in the standings now -- is overtaking the Broncos. I said it that night and still believe it now.
Q:
It seems like the writing is on the wall that Mike Wallace will leave Pittsburgh after this season. What teams might be interested?
-- Devin (Pennsylvania)