Can Cowboys still make the playoffs?
December, 12, 2012
12/12/12
8:56
AM ET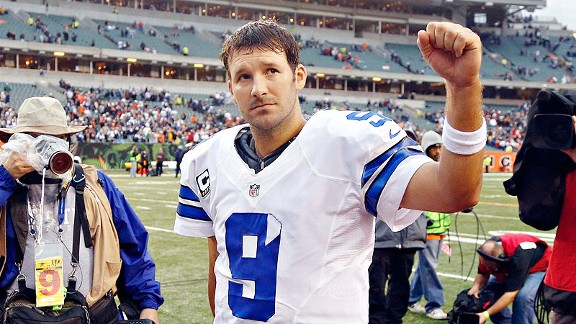 David Kohl/USA Today SportsThe Cowboys had a big win Sunday. Can they keep the momentum going?
Adam Schefter answers reader questions in his mailbag on Wednesdays during the NFL season. Got a query of your own? Submit it here.
---
Q:
Adam, is there any chance that Andy Reid will return for the 2013 football season with the Philadelphia Eagles?
-- Adam (Nevada)A:
It's always possible, Adam, but I just don't see it happening. When the Eagles lost eight straight games, most people around the league believe it sealed Reid's fate. Now, maybe Eagles owner Jeffrey Lurie will look around, determine there's not a coach out there who is as good as Reid -- and there aren't many, if any, that's for sure -- and reconsider. But most people believe this is Reid's last hurrah in Philadelphia, his final three games for the organization. Reid has served there 14 years and is the longest-tenured coach in the NFL today. Some say it's good to shake up things every decade or so. But something tells me Philadelphia will miss Reid more than it realizes now and that Reid will have plenty of other opportunities, starting this offseason.
Q:
With a huge comeback win over the Cincinnati Bengals, the Dallas Cowboys are suddenly in the playoff picture. What are the chances they make the playoffs if Dez Bryant is out?
-- Darren (California)