September, 5, 2014
Sep 5
4:57
PM ET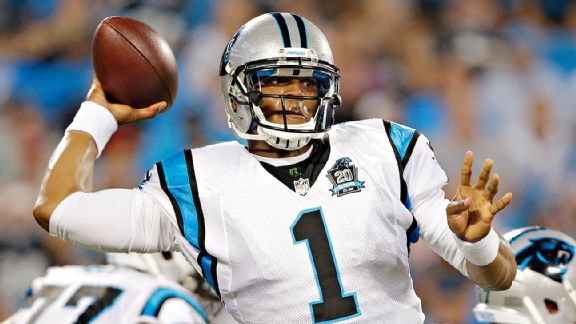 AP Photo/Bob LeveroneIs Carolina Panthers quarterback Cam Newton worth more than $20 million per year?
ESPN Insider Adam Schefter hits five of the biggest questions around the league, once a week during the NFL preseason and regular season, and sporadically throughout the playoffs and offseason. Have a query of your own?
Submit it here.
Q: What did you think of the Alex Smith deal for Kansas City? Is he worth it? How much will that dictate Cam Newton's new deal?
A:
Back when I covered the Broncos for the Rocky Mountain News, Denver signed former Oilers offensive tackle Don Maggs to a huge deal at the time. I remember asking the great agent, Jack Mills, whether Maggs was worth it. Mills said, "If someone is willing to pay it, he's worth it." The Chiefs were willing to pay Smith because he was worth it. What other options did they have? None as good as Smith.
People forget that Smith had the lowest interception percentage in football the past three seasons, and only
Aaron Rodgers
,
Peyton Manning
and
Tom Brady
have had better touchdown-to-interception ratios during that time. So yes, Smith was worth it. And Cam will be in a similar situation. He's proved to be a stellar quarterback and, more importantly, what other options do the Panthers have? They have to pay him. The question is, will it be at or north of that $20 million-a-year threshold?
Q: How long do you think Brian Hoyer's leash is in Cleveland?


To continue reading this article you must be an Insider