March, 5, 2015
Mar 5
4:00
PM ET
While Big Ten and other NCAA officials discuss rules limiting eligibility for first-year players in football and men's basketball, ACC football coaches are nearly unanimous in wanting to move in the opposite direction.
In a poll of ACC football coaches, 12 of the 13 who responded said they favored or would consider expanding eligibility to allow players to play five years — eliminating the redshirt completely — and every coach expressed significant reservations about potentially redshirting all freshmen.
The debate has become a talking point after the Big Ten
opened discussions on the subject
of improving academics for freshmen by taking them off the field to focus more on the classroom, but every coach polled said they'd seen no firm correlation between grades and playing time, and many suggested redshirting freshmen can actually have a detrimental effect on their overall college experience.
[+] Enlarge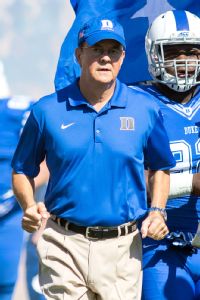 Cal Sport Media via AP ImagesDavid Cutcliffe coaches at a school known for stellar academics, and he doesn't see a need to restrict freshman eligibility.
"My case study is watching young people, and the people who do redshirt that had been stars really struggle with their identity and happiness," said Duke coach David Cutcliffe, who has 33 years of experience coaching in the SEC and ACC.
Indeed, most coaches suggest the athletes with the greatest deficiencies in the classroom are also the ones who would be hurt the most by taking away their on-field experience, while the ones with the best time-management skills away from coaches are typically flourishing academically already.
"The kids that are mature and make good decisions, a redshirt year can be good for them," NC State coach Dave Doeren said. "But the at-risk student is better off if he's playing right away and engaged with the team all the time."
While the specifics of freshman eligibility have not yet been a topic discussed among ACC coaches formally, Doeren said he was hopeful those conversations would begin soon, so that the concerns shared by the coaches can be addressed.
ACC commissioner John Swofford appeared open to restricted eligibility when asked by the Louisville Courier-Journal last month, though he conceded the logistics would be challenging.
"It's not a new topic," Swofford told the paper. "It's been talked about in our league, as well as others, periodically. I'm old enough to have played in that system, and it was a good one. I think it's very educationally sound, and I think we should think about and consider anything that's educationally sound. Whether we get back to that, I don't know. I don't know if it fits the times in today's world. We haven't taken any votes in our league in regard to it in recent years."
While the ACC does not specifically track league-wide academic performance of freshmen compared with older student-athletes, the conference does have the
highest academic rating overall
among Power 5 leagues, according to U.S. News and World Report, and 11 of the 14 institutions had an APR better than the FBS average. It's noteworthy, too, that of the 65 members of the league's academic All-ACC team, 12 were true freshmen.
On the NCAA level, eligibility restrictions for the most at-risk athletes are already
set to go into effect beginning in 2016
. Students who fail to meet core course requirements, GPA and ACT or SAT scores will be forced to redshirt or grayshirt their first year.
Extending eligibility restrictions to all freshmen would be a knee-jerk reaction, however, Cutcliffe said.
"I don't know what they're trying to accomplish other than getting better grades out of it, and that's just not going to happen," he said.
What it clearly would accomplish, however, is a huge strain on the remaining rosters for all teams.
Until 1972, freshmen were ineligible for competition. But at that time there were no scholarship limits in place, and programs could easily field a team without the newcomers. Moreover, seasons were shorter, with the majority of programs playing just 11 games until the early 2000s. This past season, Oregon and Ohio State played 15 games — one shy of an NFL season — and if freshmen hadn't been eligible to play, they might have been limited to a roster of just 60 scholarship athletes.
"That's basically an NFL roster, but we don't get to pick up anybody off waivers, have free agency, make trades," North Carolina coach Larry Fedora said. "I'm not sure how that would work, and I don't think they have any intention of giving us more scholarships."
[+] Enlarge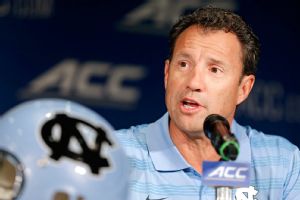 AP Photo/Chuck BurtonNorth Carolina's Larry Fedora and other coaches would certainly want to ease the 85-scholarship limit if freshmen weren't eligible.
Instead, coaches pointed to two distinct areas that could address academic concerns without eliminating eligibility.
First, schools need to do a better job of developing programs to ensure a smoother transition for incoming freshmen to the rigors of college life. As Doeren suggested, time management and study skills differentiate students who succeed from the ones who fall behind, and instilling those in freshmen upon arrival in the summer is crucial.
Virginia's Mike London said he shared some of the Big Ten's concerns regarding academic performance and would be open to further discussion of potential solutions, but he said those answers should start with an in-house focus on supporting students in the classroom.
"We all know the biggest transition is from high school to college," London said. "It's important to me that the structures you have in place — academic advising, mentoring, tutoring — that's as critical as anything else, and if you're successful there, you allow the student-athletes — particularly the freshmen — to come in and have success."
Moreover, Fedora said he'd like to see schools raise their admissions standards for athletes to weed out those who would be most likely to struggle with academics.
"Raise your standards," Fedora said. "Don't just let anybody in. If they're not academically ready, then don't let them in."
All but one coach polled suggested five years of eligibility on the field would allow coaches more wiggle room in developing their freshmen.
"I would make everybody eligible, and then your team will be a lot healthier," Miami coach Al Golden said. "There would never be a situation where a kid would feel like he's letting his teammates down. The communication would improve. Health and safety would improve, and I bet our graduation rates and the number of student-athletes leaving with postgraduate degrees would increase sharply, too."
It's a plan that was reiterated again and again by ACC coaches concerned with player safety, academics and, of course, winning.
The bottom line among all coaches, however, is that more discussion of these issues is required, and that input from the coaches dealing with student-athletes on a daily basis should be weighed as strongly as any broad statistics being used to tout academic struggles for freshmen.
"A lot of things we do, we change before they're truly broken," Cutcliffe said. "I hope they listen to reason. I'd hate to see [eligibility restrictions] happen."