November, 26, 2014
Nov 26
12:00
PM ET
To get Georgia Tech back to the ACC title game, Paul Johnson had to get back to his roots. To do that, the seventh-year Yellow Jackets coach needed the right quarterback to run his famed triple-option offense.
Who knew the answer to the Jackets' offensive uneasiness lied in a redshirt sophomore with no starting experience -- after a transfer few saw coming, at that?
[+] Enlarge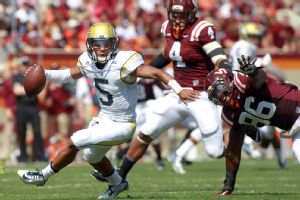 Peter Casey/USA TODAY SportsJustin Thomas' 15 touchdown passes are the most by a Tech QB since 2006.
Justin Thomas
has proved to be the key ingredient this season for Johnson, turning in one of the ACC's top quarterback campaigns, and perhaps the most surprising one. He ascended to the top of the depth chart upon
Vad Lee
's transfer this past January and never really looked back. He was voted a captain by teammates within the season's first month. He has orchestrated a 9-2 campaign since. He will go into Athens this weekend leading the preseason No. 5 team in the ACC's Coastal division, looking to knock off rival Georgia. A week after that, he will enter Charlotte with a shot at knocking off defending national champion Florida State.
"I thought our quarterback was a better fit," Johnson said. "We went back to old school, what I'd done for years offensively, and we go out of the gun and did our stuff, and he's got a great skill set for what we want to do. He's quick, he's been really good with reading the option. He's an accurate passer when we get him out and he can see, and we have a couple good receivers and we're probably more athletic."
Chief among those weapons is
DeAndre Smelter
, a 6-foot-3, 222-pounder who is a reliable deep threat, ranking second in the ACC in yards per catch (21.0) and, according to Thomas, "playing on a different level right now."
Thomas is quick to toss out praise like that, crediting his teammates for helping him grow up fast after news of Lee's departure broke.
"When it first happened, a lot of the guys called me up," Thomas said. "It was my time now. They supported me 100 percent. It was the type of feeling that gave me more confidence, knowing that guys around me were ready to help me."
Thomas admitted to not being completely comfortable with the playbook early on in his career. He saw action here and there last season, tallying 131 yards passing and 234 yards rushing, but he never really emerged as a legitimate threat to take Lee's job during an uneven 7-6 season.
"We did but he wasn't quite ready I don't think," Johnson said of considering a quarterback switch in 2013. "He's gotten better as the year has gone on, too. He's more confident. He's starting to get a really good understanding of what we're trying to do. Just like (against Clemson), he came over and before I even talked to him and he told me exactly what they were trying to do to him on the option. He's got a pretty good understanding, pretty calm. He's a good leader."
In that upset of the Tigers and their No. 1-ranked defense, Thomas was his efficient self: 8-of-11 passing for 102 yards and a touchdown, 11 carries for 46 yards. He has 15 touchdown passes on the season,
the most by any quarterback of the Johnson era
. His 827 rushing yards lead the team. His 18.61 yards per completion lead the nation.
Silencing the chorus of preseason critics has been fun. Doing this all as a quarterback has been more rewarding.
The 5-foot-11, 189-pound Thomas said he has played the position since he was 5 years old. A one-time Alabama defensive back commit out of Prattville High, the former four-star athlete eventually flipped to Johnson and the Jackets because he saw himself as a signal-caller.
His 10.79-speed in the 100 meters out of high school made him an intriguing prospect in Georgia Tech's scheme. Thomas now leads an offense that ranks fourth nationally in points per drive (3.24), one spot ahead of the Bulldogs team that the Jackets are aiming to beat for the first time since 2008, Johnson's first year.
Do that, and the undersized underclassman will gain even more attention heading into next weekend's showdown with reigning Heisman Trophy winner and fellow Alabama native
Jameis Winston
.
"I think just being out on the field, just playing as hard as I could, making plays for the team for us to win, just showed (teammates) that I was willing to lead them in the right direction," Thomas said.