December, 22, 2014
Dec 22
2:15
PM ET
It has become a yearly ritual across the ACC -- waiting on the coaching turnover that is bound to happen.
No job is ever too safe, it seems.
Just remember back to when the regular season ended a few weeks ago. Nobody appeared in imminent danger of getting fired or leaving. But alas, dominoes across the landscape brought the inevitable.
Paul Chryst exited Pitt and the ACC last week for Wisconsin and just like that, the ACC coaching fraternity will have a new member. It has gone on this way since the 2009 season ended, every single year bringing a first-year head coach to the league.
[+] Enlarge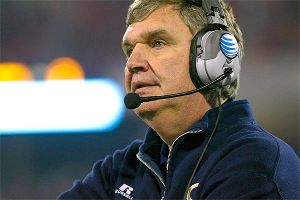 Joshua S. Kelly/USA TODAY SportsPaul Johnson joined the ACC coaching ranks in 2008, along with David Cutcliffe and Dabo Swinney.
For three years in a row, coaches have left for bigger jobs. But on the whole, coaches are not leaving en masse to take bigger opportunities. In this respect, it is clear the ACC is not the old Big East, the ultimate in steppingstone conference jobs.
Still, the league has had to deal with more yearly turnover than most. There is no one explanation that ties them all together. Most of the coaches who are no longer around were fired, some after finding early success in their careers.
But sometimes yearly coaching turnover leads to longevity. After Frank Beamer at Virginia Tech, the next longest-tenured coaches in the ACC are David Cutcliffe, Paul Johnson and Dabo Swinney.
All started coaching in the ACC in 2008.
So in this respect, coaching turnover ended up bringing a strong group of coaches together all at once. Why did it all come together in 2008? Maybe the stars aligned just so. Swinney laughs at the mention, because he actually became Clemson interim coach in October 2008 before earning the full-time job at the end of the season.
Still, Swinney, Johnson and Cutcliffe all have led their respective teams to ACC championship games and provided their programs a level of stability that has begun to change perceptions. Johnson and Cutcliffe have won ACC Coach of the Year honors a combined five times in the last seven years; Swinney has an ACC championship and an opportunity to post four straight 10-win seasons.
They each believe they have found their destination jobs. Cutcliffe has turned down various overtures to leave Duke; Johnson and Swinney just earned contract extensions over the last year.
"I guess the ADs did a good job, they picked good people that fit the situation at each school," Swinney said when asked for a way to explain their collective success.
There is no one explanation that links all three. Johnson and Cutcliffe had been head coaches at successful programs before. Swinney was the outlier in the group. He remembers walking into his first ACC coaches meeting and seeing Bobby Bowden, along with a slew of other veteran coaches just looking at him.
"Paul recognized I was a fish out of water," Swinney says with a laugh. "I'm sitting in there with all these people thinking, 'What am I going to do here? Paul just said, 'Hey sit here,' and showed me the ropes. We were both new, but he was an old veteran guy who'd been around the block a couple times."
It was not long before Swinney and Johnson were winning. It took Cutcliffe much longer, only because he inherited the worst situation of the three. Duke athletic director Kevin White did not hire Cutcliffe, but he knew exactly the coach he was getting when he arrived in Durham.
White first heard about Cutcliffe while working as Tulane athletic director, when he became close with the Manning family. The Mannings did nothing but sing Cutcliffe's praises. Later, White's son played basketball at Ole Miss when Cutcliffe was coaching there, so the two got to know each other. They briefly worked together at Notre Dame.
White came to Duke several months after Cutcliffe was hired and knew his football program would be a winner. No matter how long it took to get there.
"Joe Alleva made a brilliant hire with David," White recalled recently. "I remember writing him a note and saying, 'You've hit the cover off the ball here. This guy's going to be brilliant at Duke. He'll be a great fit.' And so I got a chance to come here and kind of jump in the foxhole with David. … And I've used a really bad kind of analogy that, oftentimes we talk about a whale on the beach. … For about 60 years, we had foreclosed on football.
"So the whale wasn't on the beach when David came. It was up in the parking lot. And so I knew it was going to take a couple years to get the whale down in the sand, and then a couple years to get the whale's belly wet, and here we are, now we're looking for the gulfstream. We've got a chance to have a darn good football program and we've got, I think, arguably the very best coach in college football."
So coaching turnover does sometimes end up having benefits. Just look at 2008.
ACC reporter Matt Fortuna contributed to this report.
ACC SCOREBOARD
Friday, 12/26
Saturday, 12/20
Monday, 12/22
Tuesday, 12/23
Wednesday, 12/24
Saturday, 12/27
Monday, 12/29
Tuesday, 12/30
Wednesday, 12/31
Thursday, 1/1
Friday, 1/2
Saturday, 1/3
Sunday, 1/4
Monday, 1/12
Tweets from https://twitter.com/ESPNCFB/lists/acc