January, 30, 2015
Jan 30
12:00
PM ET
Now that we have all had some time to digest the
2015 ACC schedule
, let us look at the most noteable takeaways.
[+] Enlarge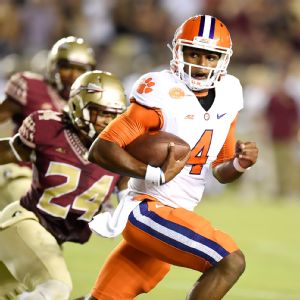 John David Mercer/USA TODAY SportsDeshaun Watson and Clemson will get a later shot at Florida State in 2015, which is a positive development.
The good:
Moving Florida State-Clemson to November. If both teams are as good as they have been in recent years, then their game will again determine the Atlantic Division. And there is nothing better than a high-stakes division contest in November, as opposed to September. There was absolutely no drama in the Atlantic this past season after Florida State beat the Tigers in Week 4; the Noles' spot in the ACC championship game was virtually solidified. As Jared Shanker pointed out, the ACC will have nationally relevant games in
all three months
of the 2015 regular season. That is absolutely huge.
The bad:
North Carolina and Boston College are saddled with two FCS games apiece, a fact that did not go unnoticed Thursday. There is a simple explanation: previously scheduled games fell through and both schools were left scrambling. North Carolina had initially scheduled Ohio State for 2015. The game was moved, then subsequently canceled when the Big Ten voted to play nine conference games. Two more factors were at play: the ACC reversed course on a nine-game league schedule when it agreed to a partnership with Notre Dame. North Carolina wanted to wait on that schedule rotation to see how it would shake out. While having two FCS teams on the schedule is far from ideal, North Carolina does play two power-five teams with Illinois and South Carolina. As for Boston College, New Mexico State recently backed out of a 2015 game against the Eagles because it overscheduled. That left a hole the Boston College had to fill on very short notice. So Howard was added. Nobody is running around throwing a party over the FCS opponents. Sometimes these dilemmas happen. (Remember when Florida State had to replace West Virginia with Savannah State?)
The ugly:
Poor Syracuse. Not only do the Orange get LSU in nonconference play, they also have the toughest three-game conference stretch of anybody in the ACC: at Florida State, at Louisville and Clemson on three straight weekends spanning the end of October into November. Nobody else in the Atlantic has to face the division's top three teams consecutively. Miami also faces a tough three-game stretch in October that could make or break Coastal Division hopes: at Florida State, Virginia Tech and Clemson. Nope, the Canes got no favors when they traded Louisville from the Atlantic for the Tigers. But there might not be anything uglier than the NC State nonconference schedule: Troy, Eastern Kentucky and then road games (yes, road games) against Old Dominion and South Alabama.
The byes:
A 13-week scheduling window wreaked some havoc with the way the schedules were created because there was only space for one open week. ACC senior associate commissioner of football operations Michael Strickland
had some good insight
into how that was handled. Some teams are going to suffer more than others. Boston College has 10 straight games before its open date. Opening with the two FCS games might not serve as any consolation. Wake Forest, Virginia Tech and Georgia Tech each have to play nine straight games to open the season; Florida State, Miami, Pitt and Clemson have to play nine straight games to end the season. The bye week is placed at an odd time for Clemson. The Tigers play Louisville on Thursday, Sept. 17 then go 15 days until they play again, Oct. 3 against Notre Dame. That is the
longest regular-season layoff
in school history.
The different:
Friday night is the new weekday favorite in the ACC, with more announced dates than Thursday night, the former go-to spot. David Teel of the Daily Press has a great
explainer piece
on the topic, but it all comes down to television. The ACC will feature its top four teams from 2014 on either Thursday or Friday night this upcoming season. Strategery is definitely involved there.
The impossible:
Once again, Virginia has the toughest schedule in the ACC, facing 10 teams that made bowl games in 2014. The move to overschedule is an interesting one, especially when you look at the nonconference scheduling models that NC State and Duke have followed. Both those programs have the worst nonconference schedules in 2015, choosing an easier route toward bowl eligibility. Last season, for example, Virginia was vastly improved, but still finished 5-7 with a backbreaking nonconference schedule. NC State finished 8-5 with a bowl victory, thanks to a cupcake nonconference schedule. NC State has scheduled up in the future to meet the requirement that ACC teams play at least one Power 5 opponent. But for right now, this schedule is hugely beneficial in the wins column. In the case of Virginia, the Hoos would be pleased if they make it out of their first four games against UCLA, Notre Dame, William & Mary and Boise State 2-2.
As former Virginia offensive lineman
Luke Bowanko
tweeted Thursday after the schedule was released:
If @UVa_Football wins out next year, they may have legitimate argument to play in the Super Bowl.

— Luke Bowanko (@Lbow70) January 29, 2015