March, 27, 2015
Mar 27
12:00
PM ET
Vic Beasley is gone, but Clemson doesn't expect to take much of a step back at defensive end. Junior Shaq Lawson will be stepping into a starting role after being a key backup the past two years, accumulating 21.5 tackles for loss in the process. We caught up with Lawson after Clemson's first spring scrimmage this week -- he had three sacks -- to see how his transition into the starting lineup is going and how coordinator Brent Venables is bringing along the rest of the defense.
David Hale: Has it felt different this spring knowing you're going to be a focal point of the defensive front?
Shaq Lawson: Oh, yes. I figured out it was my time during the offseason. It's my time to lead because I'm a vet now on the defense.
Hale: Were able to learn a lot about this role from playing with Vic for the past two years?
[+] Enlarge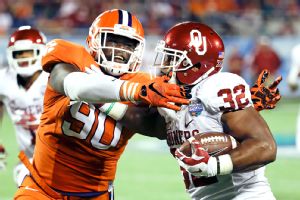 AP Photo/John RaouxShaq Lawson is ready to be a star player for Clemson after providing big plays as a reserve the last two seasons.
Lawson: I learned a lot from Vic, and it's paid off really this spring. Speed, my pass rush has gotten better. That's my whole goal going into this season is to get better as a pass rusher.
Hale: Even with Vic as the starter, you were in for more than one-third of the snaps last season. Do you expect to take a heavier share of the workload as the starter than Vic did last year?
Lawson: Yeah, I expect to play a lot of snaps.
Hale: How important is it to get some of the younger guys ready to fill the role that you played last season, stepping into the rotation on the D line?
Lawson: I feel like those guys are stepping up great. Ebo [Ogundeko] is having a great spring and will help us a lot on the pass rush. That's one guy that's definitely going to help us a lot this year.
Hale: The guys who left, they played together for a long time and really knew each other well. How has the chemistry been on the line for you and the new starters?
Lawson: That's what we've been doing this offseason, just building a relationship with each other. We're hanging out as a D-line, building that core and just hanging around each other and bringing the young guys with us.
Hale: What kind of things have you been doing?
Lawson: Playing video games, talking, chilling with each other. We're always with each other on the weekends. We eat, go out to dinner. We're a family. We're trying to build a family bond on the D-line.
Hale: Last year's defense set a pretty high standard, leading the nation in a number of key categories. Do you guys have similar goals?
Lawson: I've said there's no drop off with us. We're going to continue to bring it. All of us have played in a lot of big games, made big plays in big games. I don't feel like there's a drop off. We'll live up to it, we just have to continue to work hard and get better. We'll have that goal again of being the No. 1 defense in the nation.
Hale: With so much turnover in personnel, has Coach Venables changed his approach at all during spring practice?
Lawson: Oh no, no. Coach V is the same. He pushes us, comes to work every day to get us better and give us the stuff to make us better. He's hungry. He's a hungry coach. That's what I like about Coach V. There's no drop off. He doesn't care who left. He's doing the same work with us.
Hale: The defensive backs did a nice job last season, but they obviously benefitted from the success of the guys up front. Do you think their experience this season in the back end of the D can now help the younger guys on the line get acclimated?
Lawson: Yeah, those same DBs -- [Jayron] Kearse and Mackensie [Alexander]. Jadar [Johnson] is stepping up for us. T.J. Green. They played all last year and got great chemistry, and they're going to help us a lot -- hold their coverage and let us get sacks.