Glover-Willams brings more speed to OSU
August, 25, 2013
8/25/13
8:20
PM ET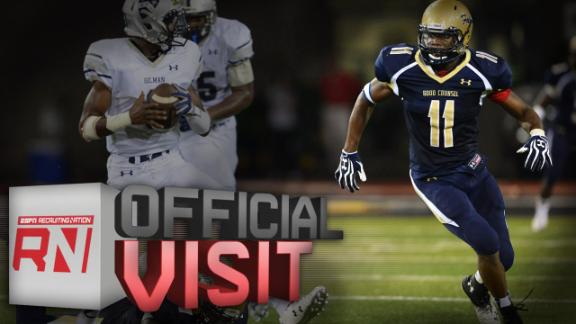 Eric Glover-Williams
(Canton, Ohio/McKinley) became the
first 2015 commitment
for Ohio State on Sunday. Glover-Williams is the No. 29 ranked player in the ESPN Jr. 300 and gives coach Urban Meyer yet another playmaker for his offense.
To continue reading this article you must be an Insider
Insider
Two Weeks Left And We Still Know Nothing
There are just two weeks left in the college football season, and Gene Wojciechowski says that we still don't know anything.
Two Weeks Left And We Still Know Nothing
VIDEO PLAYLIST
OSU FB RECRUITING SCORECARD
Brutus_Buckeye

Brutus Buckeye


Congrats my #Buckeyes! #TheShoe is gonna lead @NCAA in attendance for 2014! http://t.co/gGcaii9OrT #GoBucks http://t.co/Y5c1Tmafw0
40 minutes ago

CgoffJG

Chris Goff


Wilson starting a "Beat Purdue" chant during timeout. #iufb #pufb @KyleRowland
about an hour ago

11W

Eleven Warriors


The Hurry Up: Jerome Baker, Justin Hilliard vying for honors, Grant Schmidt's plans, and is Ben Edwards in the mix? http://t.co/osRvGZYsYG
about an hour ago

JMUCoachWithers

Everett Withers


98 strong supporting #JMUBasketball Let's Go Dukes! http://t.co/IQYwVOWt0p
about an hour ago

ESPN_BigTen

ESPN BigTen


It's _ichigan week in Colu_bus http://t.co/fFOnoIslSx
about an hour ago

bucksinsider

Ohio State News


Marshall's return lifts Buckeyes by Hoosiers 42-27: COLUMBUS, Ohio (AP) — Jalin Marshall... http://t.co/6qQe7ptVyh #buckeyes #ohiostate
about an hour ago

bucksinsider

Ohio State News


College Football Today: STARS-Samaje Perine, Oklahoma, set the single-game FBS record by... http://t.co/GoL9iT4XzZ #buckeyes #ohiostate
about an hour ago

bucksinsider

Ohio State News


Out of control: FSU, OSU just win, baby: Ohio State finally took control of its game aga... http://t.co/Y0fXEJeZC4 #buckeyes #ohiostate
about an hour ago

bucksinsider

Ohio State News


Assessing threats for contenders in rivalry week: Breaking down the ballots for the AP T... http://t.co/jDExTUEitK #buckeyes #ohiostate
about an hour ago

bucksinsider

Ohio State News


Hoke's job security underlying current in The Game: What's buzzing on Yahoo Sports: By R... http://t.co/zFUJIDTTXm #buckeyes #ohiostate
about an hour ago

AWardESPN

Austin Ward


Hope nothing but the best for him. I'm sure I'll have "Eric Berrrrrry, Eric Berry" playing in my mind all night. https://t.co/ZlnmIZqLCu
about an hour ago

AWardESPN

Austin Ward


Just heard the bad news about Eric Berry. Thoughts out to him and his family -- maybe the best player on, off the field I've ever covered.
about an hour ago

rustymillerap

Rusty Miller


Hoke: "They can speculate. If I get distracted with what we're doing that's not fair to those 115 kids. I've never worried about a job."
about 2 hours ago

rustymillerap

Rusty Miller


#Michigan's Brady Hoke not contributing to talk about his job security: http://t.co/fVrCv5BAHd #Buckeyes
about 2 hours ago

rustymillerap

Rusty Miller


Big Ten teams in AP men's hoops Top 25: #Badgers No. 2, #Buckeyes 16th, #Wolverines 19th, #Spartans 20th.
about 2 hours ago

rustymillerap

Rusty Miller


Lot going on, so late with this: #Buckeyes up 4 spots to No. 16 in latest AP men's hoops poll.
about 2 hours ago

bigtenconf

Big Ten Conference


2014 was a successful year for #B1Gfieldhockey. Check out some of the highlights. http://t.co/eI04UkpdRF
about 2 hours ago

KyleRowland

Kyle Rowland


What was the first year of the graduate transfer rule...2005?
about 2 hours ago

ohiounion

Ohio Union


Wondering what events are happening for #BeatMichigan Week? Check the latest from the sOUrce! http://t.co/zT5PqLepz3 http://t.co/s0z0PS8MQi
about 2 hours ago

joe11w

JoeSports


#2 Ohio State wrestling versus #11 Virginia: Watch it live: The #2-ranked wrestling Buckeyes are taking on #11... http://t.co/YbfZscorVQ
about 3 hours ago

AWardESPN

Austin Ward


Troy Smith isn't ready to cast a Heisman vote yet, but he did offer an endorsement of J.T. Barrett's candidacy. http://t.co/Uxt75P59Eo
about 3 hours ago

ESPN_BigTen

ESPN BigTen


Troy Smith endorses J.T. Barrett for Heisman http://t.co/p555GOsIMZ
about 3 hours ago

joe11w

JoeSports


Why is this news?: Shannon Scott earns POTW honors, Ohio State to snap Michigan's streak: Ohio State Basketbal... http://t.co/zDTnXI5pJP
about 3 hours ago

Buckeye_Nation

Buckeye Nation


Urban Meyer: 'This is not another game, this is The Game' / #Lantern / http://t.co/iCRxvP8e1A
about 3 hours ago

KyleRowland

Kyle Rowland


Kansas State tops Purdue 88-79 in Maui Invitational http://t.co/VnP0llfqar
about 4 hours ago

ESPN_BigTen

ESPN BigTen


Big Ten Monday mailbag http://t.co/QylmPm4anf
about 4 hours ago

wolfe1875

Wolfeman


@chris_spielman @criscarter80 right here http://t.co/W7XG4EG2nj this is #BetterThanBeckham #greatestcatchever
about 4 hours ago

KyleRowland

Kyle Rowland


Final: Kansas State 88, Purdue 79. Boilers first loss of season. They'll play at 9:30 local time again tomorrow (2:30 eastern).
about 4 hours ago

bucksinsider

Ohio State News


Ohio State Basketball: Is D'Angelo Russell Ready to Be OSU's Top Scoring Option?: With 15... http://t.co/2yguc8KCJP #buckeyes #ohiostate
about 4 hours ago

JMUCoachWithers

Everett Withers


JMU Students, make sure to be one of the first 2,500 in the stadium Saturday to get your official Blackout Shirt! http://t.co/CZ9eZntYe3
about 4 hours ago

KyleRowland

Kyle Rowland


Purdue cuts it to five. And it's pure comeback. Kansas State not unraveling, Purdue just playing well.
about 4 hours ago

KyleRowland

Kyle Rowland


AJ Hammons picks up his fourth foul. KState leads Purdue 72-61 with 6:19 left.
about 4 hours ago

KyleRowland

Kyle Rowland


Getting chippy on the court. Doesn't seem like refs are doing a good job of keeping things under control.
about 4 hours ago

KyleRowland

Kyle Rowland


Marcus Foster with 19 points. Every time KState needs points, he provides them. 4 of 7 from 3-point range.
about 4 hours ago

11W

Eleven Warriors


Despite widening disparity, Ohio State expects Michigan's best punch: "That was as obvious as you can be last year." http://t.co/TB2pk3oxLh
about 5 hours ago

KyleRowland

Kyle Rowland


Northrop grad Bryson Scott will go to line with chance to cut KState lead to single digits.
about 5 hours ago

KyleRowland

Kyle Rowland


Kansas State's lead, which was once 20, is down to 10. Lahaina Civic Center coming to life.
about 5 hours ago

KyleRowland

Kyle Rowland


Jon Octeus banks in 3, smiles all the way down the court.
about 5 hours ago

bucksinsider

Ohio State News


Time to take a fresh look at Ohio State and the College Football Playoff: Time to take a... http://t.co/KiyinIscrw #buckeyes #ohiostate
about 5 hours ago

EASPORTSMauiInv

Maui Invitational


Fans of #MauiHoops dress for the occasion, especially those of @BoilerBall http://t.co/f89dyFYn4W
about 5 hours ago

KyleRowland

Kyle Rowland


Isaac Haas swung his elbow after some contact on a rebound, then gets fouled at other end, then KState player chirps and gets technical.
about 5 hours ago

KyleRowland

Kyle Rowland


Matt Painter absolutely laying into his team. You can him across the court over PA announcements.
about 5 hours ago

nickmangold

Nick Mangold


Game day is finally here! J! E! T! S! Jets! Jets! Jets! #JETS #NYJ
about 5 hours ago

ESPN_BigTen

ESPN BigTen


Paul Bunyan Axe tradition loses luster with new policy http://t.co/ufRYYfHUCc
about 5 hours ago

KyleRowland

Kyle Rowland


Turnovers plague Boilermakers in sloppy first half http://t.co/qPdQxvGKUj
about 5 hours ago

11W

Eleven Warriors


Troy Smith's No. 10 will be enshrined in Ohio Stadium on Saturday. "I love this place with all my heart," he says. http://t.co/UOgNArmkcm
about 5 hours ago

11W

Eleven Warriors


Welp, that was fun while it lasted. (Via @Lovelybuckeye) http://t.co/476oGhHy6i http://t.co/cryUZg4Lcn
about 5 hours ago

ESPN_BigTen

ESPN BigTen


Michigan, Brady Hoke hope to end on a high note http://t.co/jPjZeaDSdY
about 5 hours ago

KyleRowland

Kyle Rowland


Halftime: Kansas State 39, Purdue 24. Eleven turnovers for Boilers, zero offensive rebounds. Nightmare first half.
about 5 hours ago

KyleRowland

Kyle Rowland


Kansas State on 18-3 run, leads Purdue 39-22 late in first half. Boilers 1 for their last 9. Last basket came at 6:36 mark.
about 5 hours ago

KyleRowland

Kyle Rowland


Purdue has 10 turnovers and zero offensive rebounds.
about 6 hours ago

11W

Eleven Warriors


VIDEOS: Urban Meyer dives into Michigan Week & Troy Smith returns to Ohio State; reflects on yesteryears http://t.co/lCcHOu6dNx
about 6 hours ago

11W

Eleven Warriors


There are some solid prospects who could end up at running back for Ohio State in the 2016 class. http://t.co/iApfUibwE6
about 6 hours ago

joe11w

JoeSports


There is nothing wrong with Ohio State-Michigan being a night game: Ohio State and Michigan aren't playing The... http://t.co/ZdCpugC38x
about 6 hours ago

KyleRowland

Kyle Rowland


Stephen Hurt (three fouls) and Thomas Gipson (two) both in foul trouble. Big 3:45 for Purdue, which trails Kansas State 33-22.
about 6 hours ago

KyleRowland

Kyle Rowland


Literally. 7-0. RT @HammerAndRails K-State is getting all the offensive rebounds.
about 6 hours ago

KyleRowland

Kyle Rowland


Kendall Stephens forces NBA 3, Kansas State comes down and hits 3. Matt Painter not pleased, kicks scorer's table.
about 6 hours ago

KyleRowland

Kyle Rowland


Purdue 7-11 from the field but nine turnovers causing problems. KState leads 25-20 at under-8 timeout of first half.
about 6 hours ago

KyleRowland

Kyle Rowland


Four turnovers in 19 seconds for Purdue. Kansas State leads 19-13, an astounding 15 points have come off turnovers.
about 6 hours ago

KyleRowland

Kyle Rowland


It took 8:21 for both of Purdue's 7-footers to get two fouls. Rest of the half should be interesting.
about 6 hours ago

11W

Eleven Warriors


Looks like Ohio State is removing "UM" from Ohio Stadium for The Game. (via @Mattaritaville. http://t.co/476oGhHy6i http://t.co/mzbVXsygBV
about 6 hours ago

KyleRowland

Kyle Rowland


Kansas State with a shot clock violation. Every Purdue opponent has had one this season.
about 6 hours ago

KyleRowland

Kyle Rowland


These teams are putting on quite a show so far. Shot-for-shot. Tied at 13 with 12:4 left in half.
about 6 hours ago

OhioStateAlumni

Ohio State Alumni


Just five days and two hours to kickoff. It's Beat Michigan Week! http://t.co/9eiU4gAGa4 #GoBucks
about 6 hours ago

nbairdjc

Nathan Baird


The baselines here at Maui are like suicide seats at a roller derby.
about 6 hours ago

KyleRowland

Kyle Rowland


More than five minutes in Kansas State yet to record a rebounds. But Wildcats have eight points off four Purdue turnovers.
about 6 hours ago

KyleRowland

Kyle Rowland


Isaac Haas with six points. The 7-foot-2 center having no problem down low. Purdue leads 10-8 with 14:42 left in half.
about 6 hours ago

KyleRowland

Kyle Rowland


Purdue with three turnovers in last 41 seconds. All six Kansas State points have come off Boilermaker miscues.
about 6 hours ago

KyleRowland

Kyle Rowland


AJ Hammons picks up two fouls in the first 1:04. He'll likely be on the bench the rest of the first half.
about 6 hours ago

KyleRowland

Kyle Rowland


Underway in Maui. http://t.co/bR2JGqIyMA
about 6 hours ago

11W

Eleven Warriors


Shannon Scott's 13.7 assists per game are tops in the country. Monday he was named Co-Big Ten Player of the Week. http://t.co/eEfUUy3A6I
about 6 hours ago

KyleRowland

Kyle Rowland


Purdue fans traveled well. http://t.co/EQw05tM47Q
about 6 hours ago

OSUADAthComm

Dan Wallenberg


More on @3SScott earning his first career Big Ten Player of the Week award: http://t.co/vtNmps7YgS
about 6 hours ago

11W

Eleven Warriors


UCLA and Arizona won big, Arkansas' stock is on the rise, and the Noles survive again. The week that was: http://t.co/XFmRR0kG1r
about 7 hours ago

KyleRowland

Kyle Rowland


Here's what they're playing for in Maui. Trophy named after former Big Ten commissioner Wayne Duke. http://t.co/oE2BHqA3i6
about 7 hours ago

joe11w

JoeSports


The best moments in the Ohio State-Michigan rivalry over the last ten years: Last year's game was one of the c... http://t.co/RaSEHKT0ZK
about 7 hours ago

OSUADAthComm

Dan Wallenberg


Congrats to @3SScott for co-Big Ten Player of the Week honor. Well deserved after averaging 15 assists a game last week.
about 7 hours ago

B1GMBBall

Big Ten Men\'s Hoops


Scott accounted for 50% of #Buckeyes output in 2 wins, averaging 15.0 apg. Kaminsky: 23 ppg, 10 rpg, 5 bpg on 73.1% shooting last week. #B1G
about 7 hours ago

B1GMBBall

Big Ten Men\'s Hoops


#B1GMBBall Player of the Week honors shared by Shannon Scott of @OhioStateHoops & Frank Kaminsky of @BadgerMBB. #B1G http://t.co/CHJuwMHFlp
about 7 hours ago

KyleRowland

Kyle Rowland


Purdue enters today's game ranked first nationally in scoring defense (42.3 ppg) and defensive points per possession (0.62).
about 7 hours ago

ESPN_BigTen

ESPN BigTen


B1G early look: Setting up Week 14 http://t.co/0VrqsfvtO9
about 7 hours ago

KyleRowland

Kyle Rowland


The John Purdue Club sold 100 packages for Maui Invitational. Four Fort Wayne area couples made trip. http://t.co/yWy5AGUjio
about 7 hours ago

Brutus_Buckeye

Brutus Buckeye


This is GREAT! #Repost @natalie_the_nut with repostapp.⁰・・・⁰Too busy taking a selfie to realize we… http://t.co/hFtQOOzTzB
about 7 hours ago

KyleRowland

Kyle Rowland


Purdue and Kansas State warm up an hour from tipoff. http://t.co/j6hVRgDyXd
about 7 hours ago

KyleRowland

Kyle Rowland


Lahaina Civic Center, site of the Maui Invitational. http://t.co/C3QTwFeTst
about 7 hours ago

OSUADAthComm

Dan Wallenberg


In last 2 games, @3SScott has accounted for 90 of 180 (50%) @OhioStateHoops pts with 30 asts leading to 71 teammate pts. He also scored 19.
about 7 hours ago

KyleRowland

Kyle Rowland


Maui Invitational schedule. http://t.co/5qRdw88I5B
about 8 hours ago

AWardESPN

Austin Ward


OSU's Michael Bennett: "Our regular season ended against Indiana. This game makes or breaks our season." http://t.co/1uoMDVf4Vv
about 8 hours ago

11W

Eleven Warriors


People won't stop Tweeting mean things to Kirk Herbstreit: http://t.co/NXfyK6MbPe http://t.co/AjsVMyqCUO
about 8 hours ago

bucksinsider

Ohio State News


Ohio State Football: What the Buckeyes Should Be Thankful for in 2014: Thanksgiving is a ... http://t.co/RGIsL110zF #buckeyes #ohiostate
about 8 hours ago

joe11w

JoeSports


Urban Meyer Michigan week press conference: This isn't just another game: Meyer's press conference remarks tod... http://t.co/6qjG5uiV3o
about 8 hours ago

11W

Eleven Warriors


Urban Meyer had an extra edge to him Monday: "This is not another game, this is The Game." Welcome to Michigan week. http://t.co/jv2wlfMec1
about 8 hours ago

nickmangold

Nick Mangold


Hey #Jets fans, we've got a big divisional matchup tonight. Watch it live with #NFLMobile from @VerizonWireless http://t.co/N4YdgDfUzP
about 9 hours ago

KyleRowland

Kyle Rowland


Kansas State's size a worry for Boilermakers http://t.co/6h3GmzHJ5g
about 9 hours ago

ESPN_BigTen

ESPN BigTen


Huskers' Kenny Bell's career full of fun and heartbreak, and he wouldn't change a thing http://t.co/ygjl5kuk6Q
about 9 hours ago

OhioStFootball

Ohio State Football


5 Days till #TheGame..... #BeatMichigan
about 9 hours ago

rustymillerap

Rusty Miller


Meyer on #Buckeyes seniors: "This book's not written yet. These next couple (games), that's going to be their legacy."
about 9 hours ago

rustymillerap

Rusty Miller


Urban Meyer: "There's no fun in a rivalry unless you're singing the fight song in the locker room after the game."
about 9 hours ago

AWardESPN

Austin Ward


Urban Meyer: "This is not just another game. This is The Game." http://t.co/39ZgK7ewmh
about 9 hours ago
BLOG ARCHIVE:
CATEGORIES: